Panoramic

Our comprehensive solution
Panoramic
This is our star model and our main recommendation if you are looking for a comprehensive solution as it incorporates the entire track plus its deck in a single structure.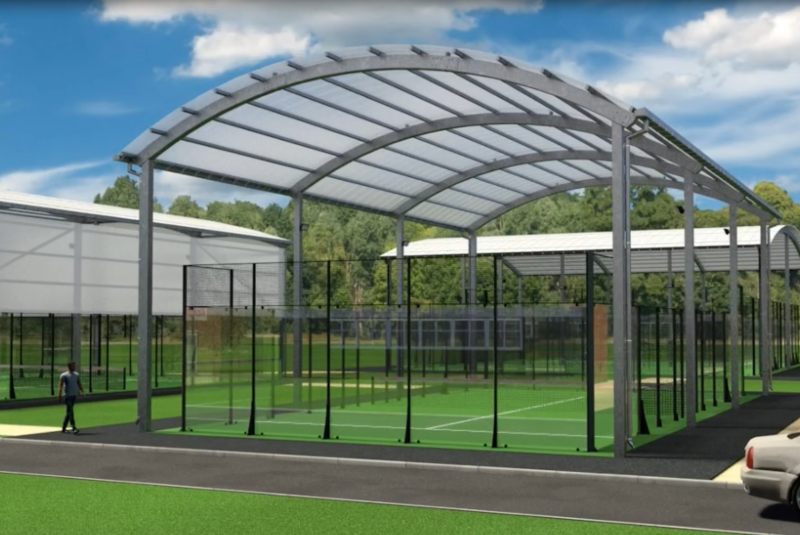 The self-supporting curved roof is a constructive solution as there is no supporting roof structure and the curved metal profile rests on the load-bearing beams. It is a corrugated metal profile that is curved by drawing. The profile is fixed to the beams using screws. Thanks to this, they are the lightest solution on the market for realization of covers. This increases the assembly speed, reduces costs, saves structure and improves aesthetics.
Hassle-Free
All of our products include installation from our team of experts.
Specification
Dimensions: 11,000 x 21,000 mm
Pillars height: 7,000 mm Pillars: S- 275- JR rolled steel profiles
Finish: Preparation surface according to DIN EN ISO 12944- 4 grade Sa 2 1/2
Final paint: Finished colour: Pyrenean White, Pearl Grey, Navarra Green, Lake Blue
Cover plate: Self-supporting mod. INCO 70.4
Curved Outer face: colour to choose (according to the factory colour chart)
Inner face: Grey colour (Contact us for details on other colour choices)
Bolted Joints: Steel Screws quality 8.8
Civil works: Concrete footings HA- 25-
Technicial Information
Frames for securing glass, horizontal anti-vandal reinforcement bar welded to the entire perimeter of the mesh frame to reinforce it. All this with polyurethane oven-baked paint in RAL colour to choose, fixing plates to the base using hilti-type plugs, galvanized screws.
10 mm 2001 homologated tempered glass fronts in 14 modules in dimensions of 3000 x 2000, 4 modules in dimensions of 2000 x 2000, countersunk holes for fastening, polished edges including installation of neoprene joints in profile and screws.
12 mm artificial grass surface for the practice of paddle tennis, fibrillated polypropylene fibre, game lines, joining bands, special adhesives, as well as silica sand of selected granulometry 17 kg / m2
Lighting with an independent pole to the structure in structural tube d- 80/4 mm at 6 m, anchor plate with 4 anchor points and 4 security brackets, for securing projectors and cable conduction finished in T for coupling halide spotlights. 8 waterproof projectors for halide or Vsap lamps in anodized aluminium and shatterproof glass, high factor equipment for 400 w. 400 w / 220 v halide or Vsap lamps 10m pçadel net of 4mm nylon mesh with tensioner, approved and fully installed with connection to the structure.